Stuck in the middle again
While our price parameters have yet to expand during these first few days of March, it would seem that, without a doubt, the price volatility has in the grain and soy markets.? Down sharply on Monday, up sharply on Tuesday, and now at least early prices as we reach the midweek point.? Could this be a foretaste of what is yet to come in the weeks/months ahead?? I suspect yes. I would reiterate what I said in the letter last weekend; regardless of how bullish you may feel towards these markets right now, that should never be an excuse not to implement a well-thought-out marketing plan, based on ROI objectives for your individual operation.? To do otherwise will leave you at the mercy, both financially and emotionally, of the whims of the marketplace.
Seeing that grain and soy markets remain directionless overall, it might be a good time to take a glance at some other commodity markets that have enjoyed a surge this past year or so but may be reaching the end of the line.? It seems an eternity ago now, but if you recall, last spring, as with many other markets, crude oil suffered a Covid-19 inspired meltdown, with spot WTI futures eventually trading into negative territory.? While the Brent market, which reflects global values, did not reach such dramatic levels, we did slip below $20 a barrel for the first time since 2001.? Once most awoke to the fact that the world was going to recover, not to mention the fact that we had severely crippled the shale oil industry, prices began to recover. In the 44-weeks since poking in that low, we have rallied over 300%, which unfolded in two big swings higher, the first totaling just over $30 a barrel and the second, to date, just over $31.? While there is nothing conclusive just yet to suggest we have found a peak, more than a few warning flags are being waved, including the belief that OPEC is anxious to boost output, and we could be in store for a couple of months of back and fill type corrective pressure.? If that is correct, psychologically at least, that could weigh on the ethanol market, and in turn, corn.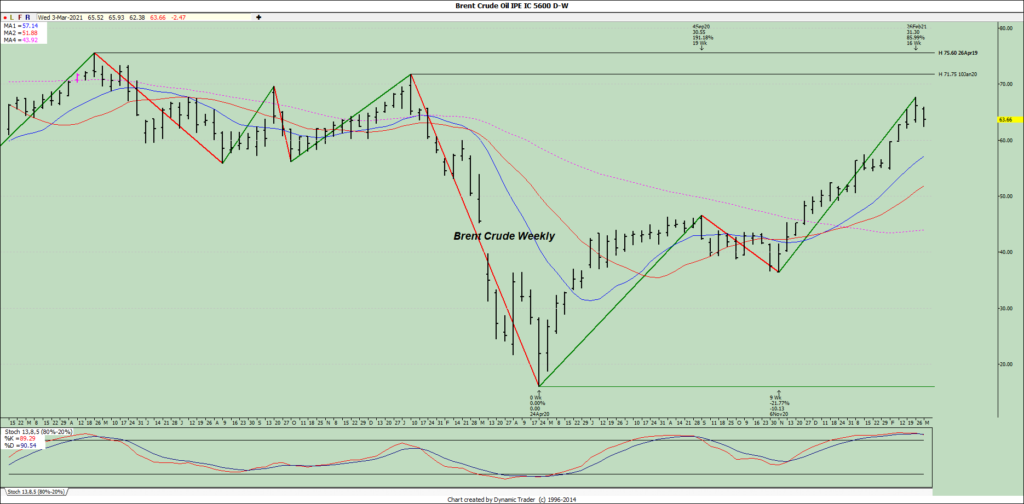 The other market of interest is gold.? Granted, this one does not have any direct bearing on the action in the grain sector but still impacts the commodity world as a whole.? This market had actually began climbing all the way back in August of 2018 as investors grew increasingly uncomfortable with currencies and the seeming overinflated values of equities. Still, it was not until 2020 that things became really exciting.? As with all markets, it witnessed a panic selloff back in March of last year but quickly regained the title of the safe haven of the investment world and eventually reached up to record a new record peak north of $2000 per ounce.? The old peak had been set back during the 30-year commodity in 2011 at $1920 per ounce.? Since that record-setting peak in August of last year, this market has been working lower in successive waves and is now nearing in on the $1700 level.? Granted, gold is difficult to label as an industrial metal as 80% of the use is still in the jewelry sector. However, the action will still weigh on commodity indexes and potentially investment capital.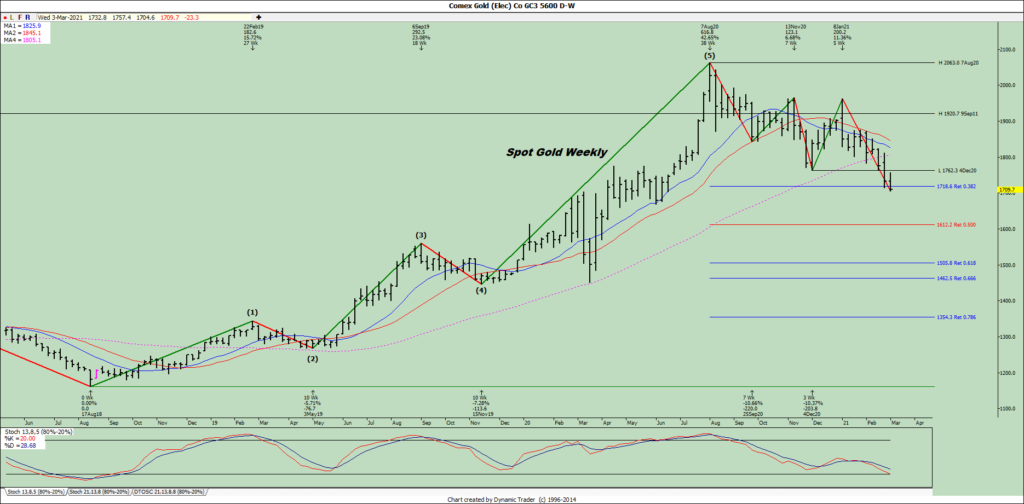 Finally, let's look at the Goldman Sachs Commodity Index, which has been climbing since the spring of last year and most recently pushed up against the last peak, which was set in mid-2018.? We have begun the month with softer action, and while not enough to signal a peak, note that it would appear to be happening right as the dollar is beginning to show signs of a bottom.? Ironically enough, I am writing this soon after reading Goldman's latest commodity update, in which they suggest commodities remain the best hedge against inflation. While nothing is confirmed as of yet, please do not lose sight of the fact that markets are constantly attempting to gather the information as it unfolds and adjust the prices accordingly, and at this time, we have already digested and priced in some considerable shifts in supply, as well as expectations for demand. To make us go higher or lower from here will require and change in those parameters.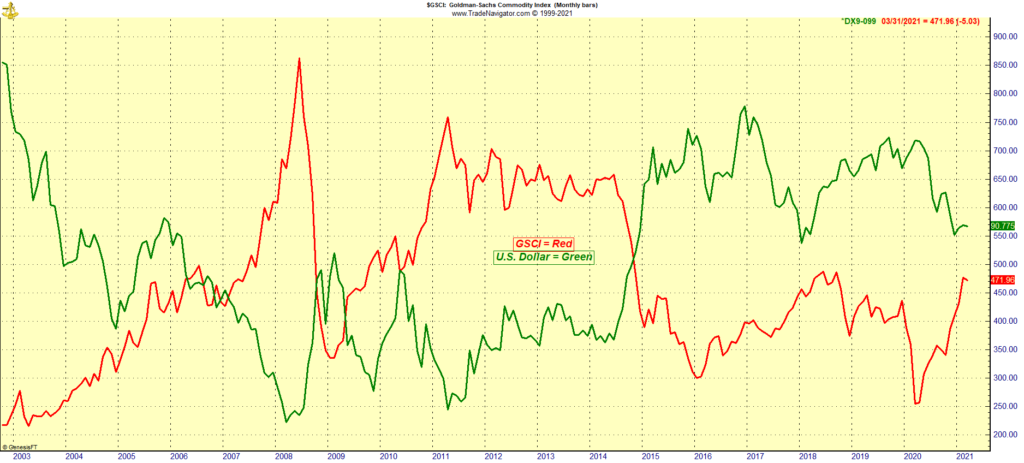 ?